This article helps to install Bluetooth drivers in Windows 10, and if you do have an issue with your Bluetooth, you can use the steps outlined to fix it.
If your computer doesn't have Bluetooth, you can still add it! All you need is a Bluetooth adapter. We'll show you how to install and fix Bluetooth drivers in Windows 10.
If you're having trouble installing your Bluetooth devices to your Windows 10 computer, it might be because of the drivers. In this article, we'll show you how to install and fix Bluetooth drivers in Windows 10.
First, you'll need to purchase a Bluetooth adapter. I recommend the Plugable USB Bluetooth 4.0 Low-Energy Micro Adapter. It's small, affordable, and easy to use.
Once you have your adapter, it's time to install the drivers. You can do this yourself or use a driver update tool like DriverBoost. I prefer DriverBoost because it's quick and easy, and it guarantees that your drivers are up to date.
Once your drivers are installed, open the Settings app and go to Devices > Add Device. Select "Bluetooth" from the list of available options. This will search for any nearby Bluetooth devices that are turned on and in range.
If everything is working properly, you should see your device listed under "Available Devices." Select it and follow the prompts to Pair or Connect. If successful, you should see a confirmation message indicating that your device is now connected.
If you're having trouble connecting or if your device isn't appearing in the "Available Devices" list, try restarting both your computer and your device. If that doesn't work, try resetting your Bluetooth adapter:
Go to Control Panel > Hardware and Sound > Devices and Printers. Right-click on your Bluetooth adapter and select "Remove device
How do I fix Windows 10 Bluetooth missing?
There are a few solutions you may try if your Bluetooth driver is missing and not working properly. Start with the first solution, then move on to the next one if it doesn't work.
1: The Windows 10 Bluetooth driver was introduced with the Fall Creators Update and can be found in Windows Management Control Panel.
2: Turn your Bluetooth back on in Device Manager
3: Trying to install a Bluetooth driver for Windows 10 is a quick and easy solution.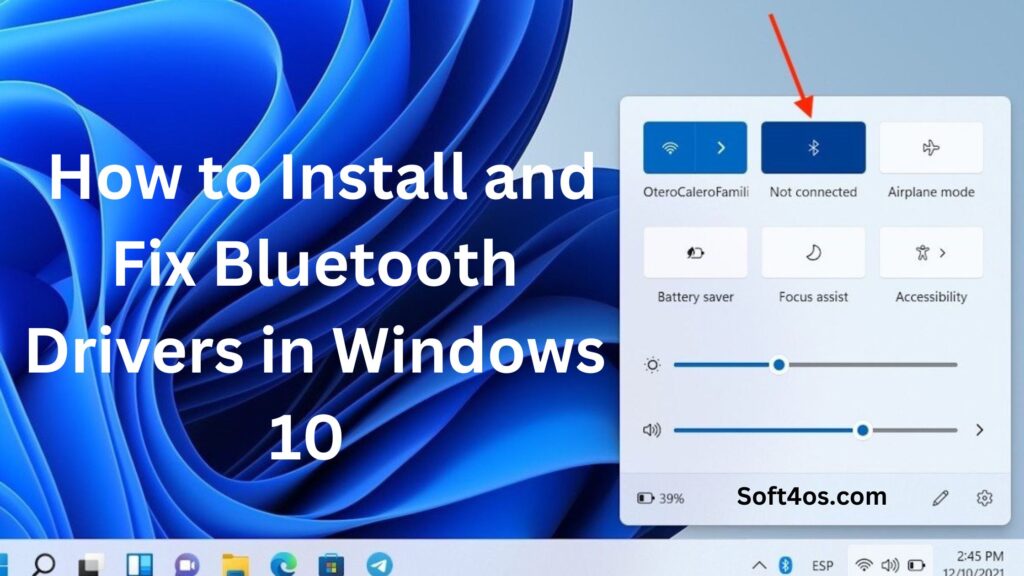 Drivers in Windows 10
Devices like your computer, phone, or printer need to connect to an operating system in order for them to work. Naturally, not every Windows app will come with native support for all existing hardware types. More often than not, you'll need to acquire and install drivers yourself in order to provide functionality for a device.
Wireless devices have become more and more popular as time has gone on. Many Windows 10 users are looking to ditch wires, and switch to more convenient devices.
This is great news for Bluetooth devices which are selling out faster than ever. For instance, over the last couple of months, many people have found it difficult to turn on Bluetooth and use it with Windows 10, but this problem is easily solved with the AirPods Pro.
These are the steps to install Bluetooth drivers on Windows 10 and fix some common problems, like when your Bluetooth isn't working or stops detecting devices.